POT, KETTLE: WHY IRAN BLAMES SAUDI ARABIA FOR ISLAMIC STATE ATTACKS (JMD in SCMP)
Terrorist killings at Iranian parliament and mausoleum of Ayatollah Khomeini bring into focus something Riyadh and Tehran have in common – the stoking of ethnic tensions and proxy wars they use to destabilise each other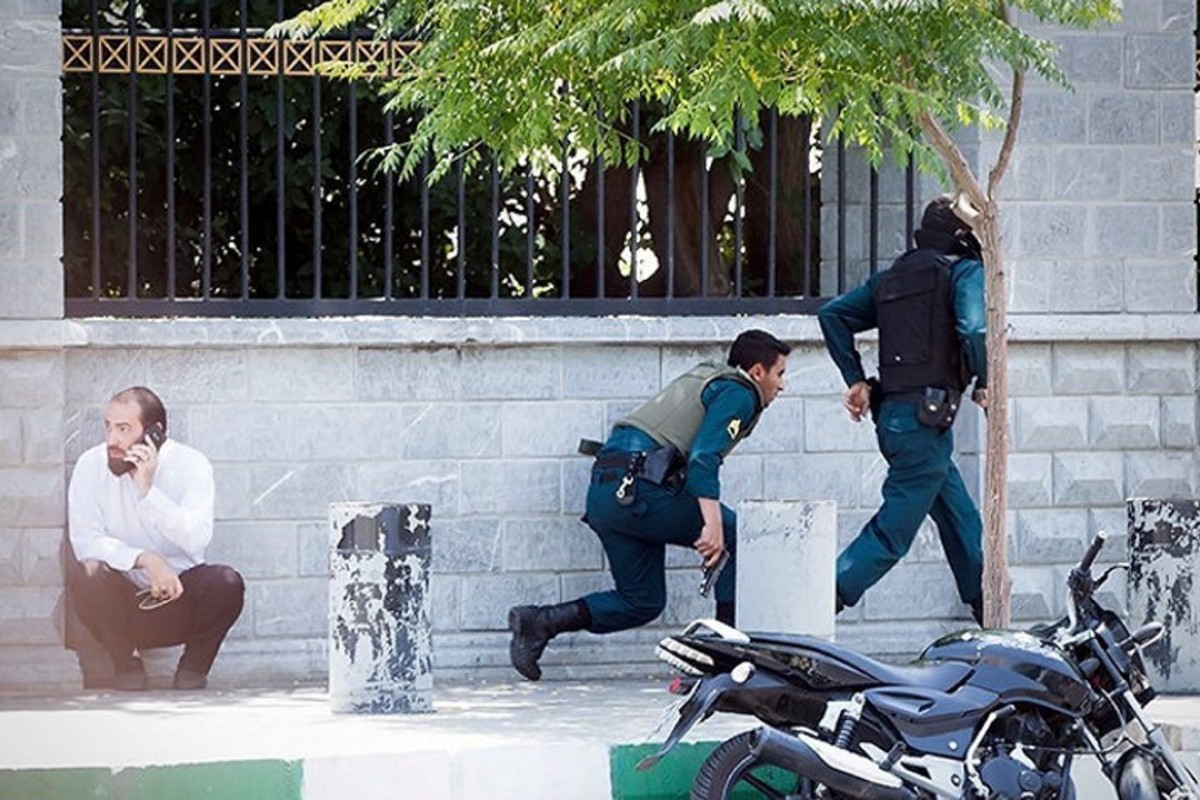 Iranian forces react to the attack on the Iranian parliament. Photo: Reuters
Islamic State's targeting of key religious and political symbols in Tehran is likely to aggravate an already escalating proxy war between Saudi Arabia and Iran.
A war of words in recent weeks between the two Middle Eastern heavyweights offered Iranian officials a rich background to justify their pinning of responsibility on the Saudis for Wednesday's simultaneous
attacks on the Iranian parliament and the mausoleum of Ayatollah Ruhollah Khomeini
, the founder of the Islamic republic. At least 12 people were killed and 42 others wounded in the attacks, the first in Iran to be claimed by Islamic State (IS).
Saudi Deputy Crown Prince Mohammed bin Salman, in an interview last month with Middle East Broadcasting Corp, warned the battle with the Islamic republic would be fought "inside Iran, not in Saudi Arabia".
Iranian Defence Minister General Hossein Dehghan responded that if Saudi Arabia engaged in "such stupidity" nothing would be "left in Saudi Arabia except Mecca and Medina", Islam's two holiest cities.
The irony is that Wednesday's attacks laid bare a picture of the pot calling the kettle black, highlighting mirror images that both the Islamic republic and the kingdom would have like to have kept hidden.
Saudi Arabia and Iran both discriminate against ethnic and religious minorities that populate their oil-rich provinces: primarily Sunni Muslim ethnic Arabs in Iran's Khuzestan as well as Sunni minorities elsewhere in Iran, and Shiites in Saudi Arabia's Eastern Province. The perpetrators of Wednesday's attacks appear to have been Sunni Muslims, including an Iranian Baloch and an Arab with a Gulf or Iraqi accent.
Saudi Arabia and Iran moreover both employ proxies to fight their battles. Saudi support for militant groups opposed to the Islamic regime in Tehran does not by definition implicate the kingdom in the attacks in Tehran. Yet, the dividing lines between militant groups are often fluid in the murky world of militancy and the possible covert operations of intelligence agencies.
Iran has recently recruited at least 3,000 Pakistani Shiites into its Xenobia brigade that is fighting in Syria in support of the regime of President Bashar al-Assad. Pakistan also detained in May a commander of the Iranian Revolutionary Guard Corps (IRGC) who was on a recruiting mission in Balochistan. The commander has since been released.
Wednesday's attacks moreover came amid mounting indications that Saudi Arabia is hoping to exploit ethnic and Sunni Muslim grievances to destabilise Iran. Pakistani militants report an influx of funds into viscerally anti-Shiite and anti-Iranian religious seminaries in Balochistan, the troubled Pakistani province that borders Iran's province of Sistan and Baluchistan, a crown jewel in China's
Belt and Road Initiative
.
Balochistan has witnessed a series of devastating attacks in the past year, some of which were claimed by IS, others by groups with past links to the kingdom, including cross border operations against border guards in Iran.
Saudi thinking was further reflected in the publication by a government-backed think tank in Riyadh of a roadmap for instigating unrest among Iran's Baloch written by an Iranian Baloch activist.
Wednesday's attacks, wittingly or unwittingly, served the purpose of both Saudi and Iranian hardliners. The attacks came weeks after a resounding electoral victory for Iranian President Hassan Rowhani, who has allowed official representatives of the Iranian Arab community to voice grievances.
"The more that this happens, the less the Saudi-backed separatists win. What the separatists want is the polarisation of views and to incite the regime to attack the [Iranian Arab] community, thereby securing a popular backlash. In recent weeks, they have conducted more murders, mostly of security personnel but also of non-security officials. They want mass arrests and public executions in order to establish themselves as the vanguard of the Ahwazi resistance," said an Iran watcher with close ties to the Iranian Arab community that refers to itself as Ahwazi.
IS, apparently preparing the ground for the attacks, has stepped up its Farsi-language propaganda in recent months. In a video in March, the group called on Iran's Sunni minority to revolt against Iran's Shia-dominated establishment. It also publishes four Farsi-language editions of Rumiyah, an online IS magazine.
Like with the attacks in Tehran, nothing suggests that IS's new found focus on Iran was inspired by Saudi Arabia. Yet, in distancing itself from IS as well as the attacks, Saudi Arabia is likely to struggle with the fact that IS ideology is rooted in the anti-Shiite, anti-Iranian, puritan Sunni Muslim ultra-conservatism propagated by the kingdom – even if it has condemned the group, denounced its world view as deviant, and at times been an IS target. Saudi denials are further muddied by the fluidity of militancy in Pakistan in which the kingdom's footprints are visible.
The US Treasury last month designated a Saudi-backed Pakistani religious scholar from Balochistan, Maulana Ali Muhammad Abu Turab, as a specially designated terrorist.
Putting Saudi Arabia on the spot, the Treasury announced the designation of Abu Turab, a leader of Ahl-i-Hadith, a Saudi-supported Pakistani Wahhabi group, and board member of Pakistan's Saudi-backed Paigham TV, who serves on Pakistan's Council of Islamic Ideology, a government-appointed advisory body of scholars and laymen established to assist in bringing laws in line with the Koran and the example of the Prophet Mohammed, as he was visiting the kingdom and Qatar on the latest of numerous fund raising trips to the Gulf.
Abu Turab, a major fund raiser for militant groups who runs a string of madrassas attended by thousands of students along Balochistan's border with Afghanistan, also heads the Saudi-funded Movement for the Protection of the Two Holy Cities (Tehrike Tahafaz Haramain Sharifain) whose secretary general Maulana Fazlur Rehman Khalil has also been designated by the Treasury.
Abu Turab regularly shows pictures of his frequent public appearances to Saudi diplomats in Islamabad to ensure continued Saudi funding, according to sources close to him.
The Treasury described Abu Turab as a "facilitator…[who] helped…raise money in the Gulf and supported the movement of tens of thousands of dollars from the Gulf to Pakistan."
The Treasury said funds raised by Abu Turab, an Afghan who was granted Pakistani citizenship, financed operations of various groups, including Pakistan's Jama'at ul Dawa al-Koran; Lashkar-e-Taiba, a Pakistani intelligence-backed group that at times has enjoyed support from Saudi Arabia; the Taliban; and Islamic State's South Asian wing.
There is, perhaps surprisingly, a silver lining in all of this: the mirror images potentially offer Saudi Arabia and Iran an opportunity to scale down their confrontation by reducing support for their proxies and granting minorities more equal rights. However, with their horns firmly locked and Iran enraged by Wednesday's attacks, neither Saudi Arabia nor Iran is likely to have the political will to avert an escalation that would only further enflame a Middle East already on fire.
James M. Dorsey is a senior fellow at the S. Rajaratnam School of International Studies and co-director of the Institute of Fan Culture of the University of Wuerzburg