AFC president's FIFA presidential bid mired in abuse of human rights allegations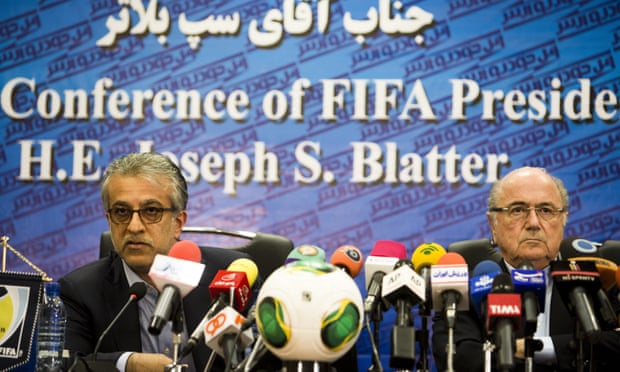 By James M. Dorsey
Assertions by Asian Football Confederation (AFC) President Sheikh Salman Bin Ebrahim Al Khalifa, a candidate for the presidency of world soccer body FIFA, that he was not involved in the arrest and abuse of sports executives and athletes in his naïve Bahrain in 2011 raise more questions than answers.
Sheikh Salman whose rise in world soccer governance since he became AFC president in 2013 has been dogged by allegations that he headed a government committee established to identify sports executives and athletes who had participated in the 2011 popular revolt. Some 200 people were arrested, including three top players of the Bahraini national soccer team, two of which alongside scores of others allege that they were tortured while in detention.
Sheikh Salman, who at the time headed the Bahrain Football Association, has until the announcement last month of his FIFA presidential candidacy, refused to discuss the allegations beyond issuing flat denials. FIFA is scheduled to elect a new president on February 26.
However, Sheikh Salman has since provided greater detail in statements and interviews in which he described the claims as "false, nasty lies." Rather than absolving him, Sheikh Salman's statements raised the spectre of potential violations of FIFA's ethics code.
Former FIFA ethics investigator Michael Garcia advised the Bahrain Institute for Rights and Democracy (BIRD) in early 2014 before leaving the world soccer body that the allegations against Sheikh Salman were beyond his jurisdiction. That view could be revised in the murky politics of the scandal-ridden group.
BIRD's London representative,
Sayed Ahmed Alwadaei,
was arrested in 2011 and abused after participating in an anti-government protest involving sports executives and athletes. Mr. Alwadaei,
who served six months in prison alongside several athletes for participating in an illegal gathering and allegedly disseminating false information to the media, said he was "sexually harassed, beaten, insulted and humiliated." His assertions echoed those of prominent national soccer team players Alaa and Mohammed Hubail.
Sheikh Salman effectively confirmed the existence of a 2011 decree by a fellow member of the Gulf island's ruling family, Prince Nasser bin Hamad al-Khalifa, ordering the establishment of a committee to identify dissident sports executives and athletes. Prince Nasser, a son of Bahraini king Hamad bin Isa Al Khalifa, chairs the Supreme Council for Youth and Sports as well as the Bahrain National Olympic Committee and commands Bahrain's Royal Guard.
"While it was proposed that Sheikh Salman lead a fact-finding committee in relation to the events of 2011, that committee was never formally established and never conducted any business whatsoever.
For the record, and in light of the recycling of historic allegations in the media, Sheikh Salman had absolutely no involvement in the identification, investigation, prosecution or mistreatment of any individuals as has been alleged," Sheikh Salman said in a statement.
Sheikh Salman's statement studiously avoided credible reports that he had been appointed and apparently accepted to be head of the committee irrespective of whether it was ultimately established or not. The Bahrain News Agency, a state-run media organization that falls under the information ministry and only runs government-sanctioned items, reported on 11 April 2011 that the committee was being formed and that it was headed by Sheikh Salman. "Sheikh Salman bin Ebrahim al-Khalifa, General Secretary of Youth and Sport, will lead the investigation committee," the agency reported. There is no record of Sheikh Salman denying the report at the time.
Sheikh Salman moreover took no exception to the notion of a committee that would penalize executives and athletes for exercising their right to freedom of expression nor did he express any objection to detention and physical and psychological abuse of those often lifted in the middle of the night from their beds. Asked in 2012 about the crackdown on dissident athletes and executives, Sheikh Salman asserted that he had no obligation to defend soccer players who "did something wrong" off the field.
Nor did Sheikh Salman take any exception to national soccer team players being put in a talk show on state-run Bahrain television shortly before their arrest in front of what amounted to a kangaroo court during which Prince Nasser in a live on-air phone call called for "a wall to fall on (protesters') heads … even if they are an athlete." Prince Nasser subsequently tweeted that "If it was up to me, I'd give them all life" in prison.
Sheikh Salman's denial is further called into question by statements by his secretary general of the BFA as well as by heads of other Bahraini sports associations who declared their intent to act on Prince Nasser's instructions in stories carried by BNA.
There is no record of Sheikh Salman denying a statement by BFA secretary general Abdulrahman Al Sayar reported by BNA that his association would sanction and suspend athletes who had violated the law whether they were "players or administrators or coaches" and irrespective of whether they had participated in protests or illegal gatherings that constituted an "attempt to overthrow the regime or insult national symbols." Mr. Al Sayer said the BFA was acting in accordance with Prince Nasser's order and in defense of security and the achievements of the Al Khalifa's "prosperous reign."
Mr. Al Sayer's statement and Sheikh Salman's silence make a mockery of the AFC president's denial of his involvement, which he based in part on an assertion that the BFA had nothing to do with politics.
Similarly, BNA reported that Bahrain Basketball Association (BBA) president Adel Al Assomi had formed a committee to probe "irresponsible" violations by players and administrative and technical staff who had participated in protests calling for the downfall of the minority Sunni regime and offended "the kingdom's wise leadership and fundamentals."
The agency reported a little more than a week after it had announced Sheikh Salman's appointment that six Shiite soccer clubs had been suspended and fined $20,000 each. It said further that Al Ahli Sports Club banned seven soccer players from playing and suspended three others for allegedly participating in the mass protests that were brutally squashed with the backing of Saudi and Gulf troops. The penalizing of the clubs came after they had asked the BFA to suspend the soccer league because of the upheaval wracking the country.
The decision to penalize the clubs, according to BNA, was taken in a meeting of the executive committee of the BFA chaired by Sheikh Salman that reaffirmed the importance of "working under the investigation committee" with regard to those who "offended the decisions of our leadership."
All in all, Sheikh Salman's denials have done little to satisfactorily answer persistent questions about his role in the repression of dissident athletes and sports executives in 2011. His suitability for the FIFA presidency remains in doubt as long as he fails to provide fulsome answers.
Moreover, those unanswered questions come in addition to Sheikh Salman's track record at the AFC of secrecy and lack of transparency and accountability, hardly characteristics that would enable a new president to restore FIFA's bruised credibility.
James M. Dorsey is a senior fellow at the S. Rajaratnam School of International Studies, co-director of the University of Würzburg's Institute for Fan Culture, and the author of
The Turbulent World of Middle East Soccer
blog and a forthcoming book with the same title.