THE US-SAUDI PLOT FOR IRAN THAT SPELLS TROUBLE FOR CHINA'S NEW SILK ROAD (JMD in SCMP)
Riyadh may already have the building blocks for a proxy war in Balochistan, a key part of Beijing's Belt and Road Initiative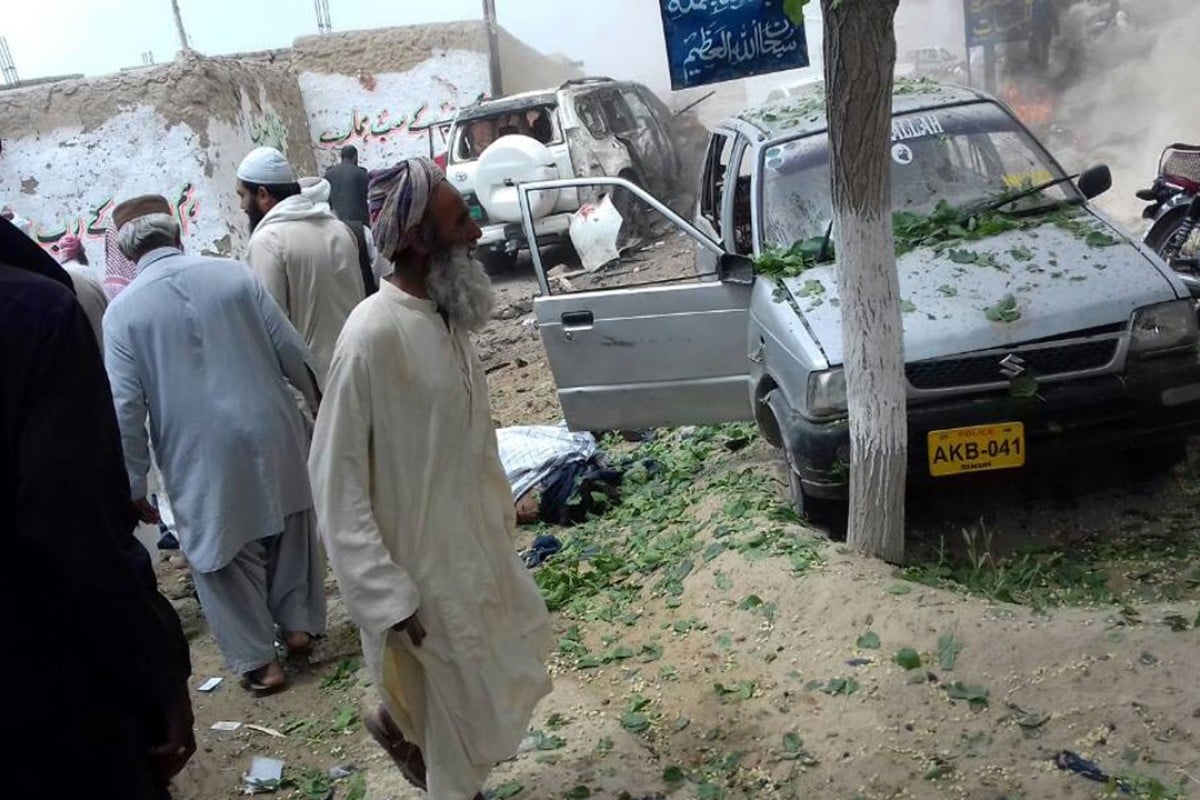 An attack on a convoy carrying the Pakistani senate's deputy chairman in Balochistan left 25 dead and 35 others injured. Photo: Xinhua
U

S-backed Saudi

plans to destabilise Iran threaten to substantially worsen security in the already troubled Pakistani province of Balochistan, a key maritime and land node in China's Belt and Road Initiative.
Saudi Arabia, emboldened by US President Donald Trump's visit to the kingdom this month and his embrace of its view of Iran as one of the world's foremost terrorist threats, sees Iran's ethnic minorities as a way of destabilising the Islamic republic, if not toppling its government.
Balochistan, a volatile, once independent, inhospitable and difficult to access expanse that straddles the Iranian-Pakistani border, looms large in the Saudi plans. Home to the Chinese-backed port of Gwadar, 600km east of the world's biggest energy choke point, the Strait of Hormuz, Balochistan has long been troubled by a low level nationalist insurgency. To counter this, Pakistan has backed religious militants, who also enjoy Riyadh's support.
A vital cog in the China-Pakistan Economic Corridor (CPEC), a US$56 billion Chinese-funded project to shorten the distance that oil travels from the Gulf to China and further economic development in China's restive north-western province of Xinjiang, Gwadar has struggled to get off the ground since it was first inaugurated nine years ago.
Baloch nationalists in Balochistan have vowed to thwart CPEC. "This conspiratorial plan is not acceptable to the Baloch people under any circumstances. Baloch independence movements have made it clear several times that they will not abandon their people's future in the name of development projects or even democracy," said Baloch Liberation Army spokesman Jeander Baloch.
Baloch spoke after two attacks this month by different groups, one targeting workers toiling on CPEC-related projects, the other targeting Senator Abdul Ghafoor Haideri, the deputy chairman of the Pakistani upper house of parliament, and a member of Jamiat e Ulema Islam, a right-wing Sunni Islamist party that is part of Prime Minister Nawaz Sharif's coalition government.
Armed men posing as police have since kidnapped two Chinese teachers in the Baloch capital of Quetta.
This month's attacks were likely unrelated to potential Saudi efforts to foment ethnic unrest among Balochs on the Iranian side of the border but serve as warnings of the possible impact on Pakistani Balochistan and CPEC if the kingdom moves ahead with its plan. They also raise the spectre of drawing India into the Saudi-Iranian conflict. Saudi's fomenting of unrest in Iran's neighbouring Sistan and Baluchistan province would likely target the Indian-backed Iranian port of Chabahar, 70km west of Gwadar.
Saudi Deputy Crown Prince Mohammed bin Salman, on the eve of Trump's visit, warned the battle with the Islamic republic would be fought "inside Iran, not in Saudi Arabia". The remarks followed a statement by General Joseph Voltel, head of US Central Command, that appeared to hold out the possibility of exploiting aspirations of ethnic minorities in Iran to weaken its Islamic regime.
Saudi Arabia initially signalled its support for Iranian dissidents when last July former Saudi intelligence chief and ambassador to the US and Britain, Prince Turki al-Faisal, attended a rally in Paris organised by the exiled People's Mujahideen Organisation of Iran or Mujahideen-e-Khalq, a militant left-wing group that advocates the overthrow of Iran's Islamic regime. "Your legitimate struggle against the regime will achieve its goal, sooner or later. I, too, want the fall of the regime," Prince Turki told the rally.
Prince Mohammed did not spell out how he intended to take Saudi Arabia's fight to Iran, but a Saudi government-backed think tank, the Arabian Gulf Centre for Iranian Studies argued in a recent study that Chabahar posed "a direct threat to the Arab Gulf states" that called for "immediate counter measures".
Written by Mohammed Hassan Husseinbor, an Iranian of Baloch origin, the study said Chabahar posed a threat because it would enable Iran to increase market share in India for its oil exports at the expense of Saudi Arabia, raise foreign investment in the Islamic republic and increase government revenues, and allow Iran to project power in the Gulf and the Indian Ocean.
Husseinbor acknowledged his study had been published "with tacit [Saudi] government consent. "Everything goes through censorship. The Saudis are looking for people who can publish things independent of the Iranian mullahs. They told me they are very sympathetic to the Baloch in Iran but sensitive to Pakistani concerns ... The Saudis are very interested ... Things will definitely heat up in the next year," he said.
In his study, Husseinbor argued that "Saudis could persuade Pakistan to soften its opposition to potential Saudi support for the Iranian Baluch [of Sistan and Baluchestan]". Noting the vast expanses of Sistan and Baluchestan Province, Husseinbor went on to say that "it would be a formidable challenge, if not impossible, for the Iranian government to protect such long distances and secure Chabahar in the face of widespread Baluch opposition, particularly if this opposition is supported by Iran's regional adversaries and world powers".
The conservative Washington-based Hudson Institute, which is believed to have developed close ties to the Trump administration, took up the theme of ethnic minorities in Iran in a seminar earlier this month that featured Baloch, Iranian Arab, Iranian Kurdish and Iranian Azerbaijani nationalists as speakers.
Saudi Arabia may already have the building blocks for a proxy war in Balochistan. Saudi-funded ultraconservative Sunni Muslim madrassas operated by anti-Shiite militants dominate Balochistan's educational landscape. Iran has accused the United States, Saudi Arabia and Pakistani intelligence of supporting anti-Iranian militants in Balochistan, including Jaish al-Adly, an offshoot of Sipah that claimed responsibility for the killing in April of 10 Iranian border guards.
The spectre of ethnic proxy wars could blow a huge hole into CPEC and the Belt and Road that China may find hard to fill. China's tacit support of Pakistan's use of militant proxies to counter Baloch nationalists and needle India by preventing Pakistani militants from being designated by the United Nations Security Council as terrorists further complicates matters.
Fuelling ethnic tensions in the Islamic republic risks Iran responding in kind. Saudi Arabia has long accused Iran of instigating low level violence and protests in its predominantly Shiite, oil-rich Eastern Province as well as being behind the brutally squashed popular revolt in majority Shiite Bahrain and intermittent violence since. Fomenting unrest in Sistan and Baluchistan could spark a tit-for-tat struggle not only in Pakistan but the kingdom itself that could further jeopardise China's efforts to secure energy resources and implant its footprint across Eurasia and the Middle East.

■
James M. Dorsey is a senior fellow at the S. Rajaratnam School of International Studies and co-director of the Institute of Fan Culture of the University of Wuerzburg